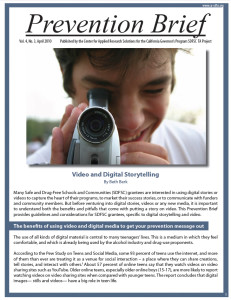 Series:
Prevention Briefs
Vol. 4, Iss. 3
Topic:
Many Safe and Drug-Free Schools and Communities (SDFSC) grantees are interested in using digital stories or videos to capture the heart of their programs, to market their success stories, or to communicate with funders and community members. But before venturing into digital stories, videos or any new media, it is important to understand both the benefits and pitfalls that come with putting a story on video. This Prevention Brief provides guidelines and considerations for SDFSC grantees, specific to digital storytelling and video.
The benefits of using video and digital media to get your prevention message out The use of all kinds of digital material is central to many teenagers' lives. This is a medium in which they feel comfortable, and which is already being used by the alcohol industry and drug-use proponents.
According to the Pew Study on Teens and Social Media, some 93 percent of teens use the internet, and more of them than ever are treating it as a venue for social interaction – a place where they can share creations, tell stories, and interact with others.i About 57 percent of online teens say that they watch videos on video sharing sites such as YouTube. Older online teens, especially older online boys (15-17), are more likely to report watching videos on video sharing sites when compared with younger teens. The report concludes that digital images – stills and videos – have a big role in teen life.